When entering the car seat world, it can be useful to know a little about the regulations regarding car seats. All car seats sold in Europe must be tested and approved in accordance with either UN R.44 or UN R.129.
UN R.44 – In this regulation, car seats are approved according to the child's weight and there are a total of five predefined weight groups where one seat can be approved for several of these.
UN R.129 (i-Size) – is an approval category within R.129. Here, the car seats are approved according to the child's height, but also through an upper weight limit for car seats with ISOFIX. This approval also includes side impact crash tests.
In addition to the mandatory regulations, most countries have their own laws regarding car seats. These laws may differ, so make sure to find out what applies in your country.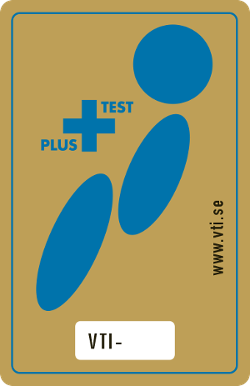 Plus Test → The toughest crash test in the world
There are some tougher tests which guarantee a superior crash safety for your child. The Swedish Plus test is one of those tests, and it means the car seat is being tested with a higher speed and shorter breaking distance.
The Swedish Plus Test is one of the hardest tests to pass and unlike the usual approval, the Plus Test is a voluntary test and it is up to the manufacturer if they want to Plus Test the car seats or not. Plus Tested car seats ensure that your child is not exposed to high-headed forces during a frontal collision. Plus test is a supplementary test by VTI, the National Road and Transport Research Institute, on car seats intended for the Swedish market. All car seats are approved for assembly at all locations in the car and are available in two versions, max 18 kg for ISOFIX or max 25 kg for car seats with belt attachment. Today it is not possible to Plus test forward-facing car seats, combination car seats or booster seats because it is not possible to be guaranteed that the child is not exposed to high neck forces. Sweden is the world leader when it comes to child safety by car and it is therefore not surprising that Plus Test is a Swedish approval.
The test also includes special sensors that measure the forces on the child's neck during the high crash collision. All rear-facing car seat from Axkid have passed the Plus test. The picture shows the Plus test logo that you can look for as a consumer to be sure that the car seat has the superior crash safety. Do you want to learn more about the Plus test? Read more here.