Why do we at Axkid advise that all children should travel rear-facing for as long as possible? The simple answer is because it is up to 5 times safer. In this article you can read about the most important reasons why rear-facing is safer.
Why is rear facing safer?
The main reason why a rear-facing car seat is safer is due to the support it gives the child's head and neck in the event of a collision. In relation to the rest of the body, a child's head constitutes as much as 25% of the child's total body weight. To give some perspective on this, an adult's head only accounts for 6% of the total body weight. When you place a child next to an adult, you can see how much larger the head is in proportion to the total size of a child in comparison to the size of the head and body of the adult. In addition to the child's heavier head, the child's neck is particularly vulnerable because it is not yet fully developed. This combination makes it even more important to protect and give the child's neck extra support for as long as possible.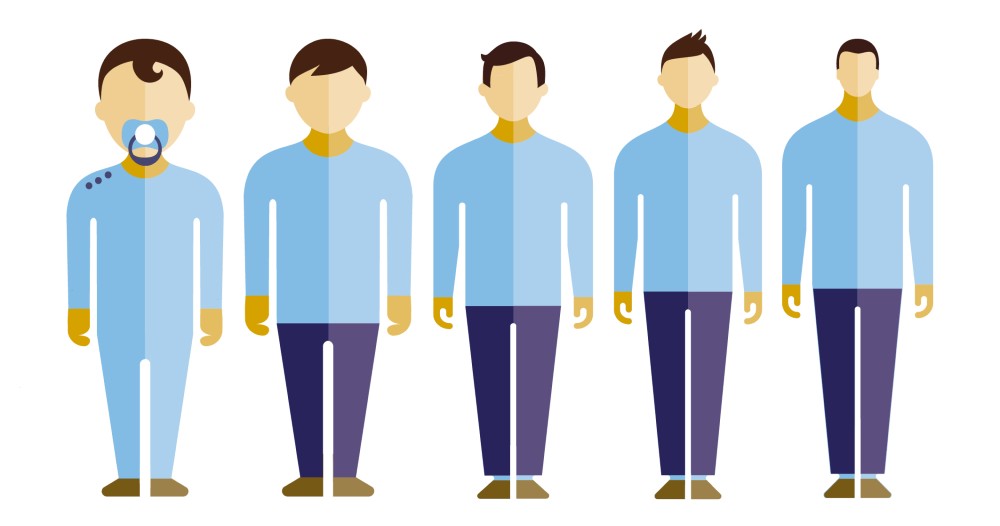 In frontal crash tests, it has been shown that the forces affecting the neck are up to five times greater when the child is sitting forward-facing compared to a rear-facing car seat. The graph illustrates the huge difference in neck forces that the child is exposed to in a frontal collision in a rear-facing car seat (green line) and forward-facing car seat (red line). During impact in a forward-facing seat, crash forces are being transferred to the child's neck, creating enormous tension in the neck. A rear-facing car seat's biggest advantage is that it supports the child's entire back, neck, and head, distributing the crash forces over a larger area and therefore significantly reduces the forces acting on the sensitive neck. Therefore, a rear-facing car seat gives your child better protection and reduces the risk of injury in the event of a collision. The movie visually shows this difference during a crash test.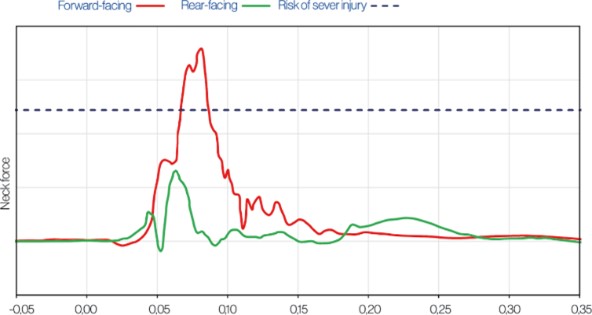 Car seat recommendations – for highest safety
Our goal at Axkid is that all children travel rear-facing for as long as possible, for their own safety. As of today, the general recommendations in Sweden say that children should ride rear-facing up to the minimum age of 4. Although there are no laws in Europe regulating rear-faced travel, Axkid always recommend rear-facing up to 6-7 years of age. Our recommendation is therefore to choose a rear-facing car seat that has the highest maximum limits. Further, we recommend a car seat that adapts for your growing child, offering a high comfort that enables your child to sit in the car seat comfortably for as long as possible. This is crucial for a car seat that can be used over a long period of time.
Remember, safety first.