For about one year ago, the Swedish alpine star Frida Hansdotter had her first child, a son named Colin. A vital change in her life that brought completely new prioritises, as well as new insights regarding safety for children – the most precious thing in life. Axkid had the great honour to have a chat with Frida Hansdotter and talked about how her first year as a parent has been like. Of course, we also talked about rear-facing car seats.
"What things do I need, how do I childproof the home and how should we travel most safely in the car". These were all questions that Frida asked herself while she was pregnant – questions she never thought about before being pregnant but suddenly were a matter of course.
Active lifestyle always on the go
With more than 200 travel days per year, Frida is used to being on the go. Road trips with the car is something she enjoys and find very peaceful, and it is an interest she already shares with her son. With the most important passenger in the car, safety has gotten a whole other meaning. She does not only drive a bit slower, she says with a twinkle in her eyes, but she also values what car seat Colin has that can give him maximum safety.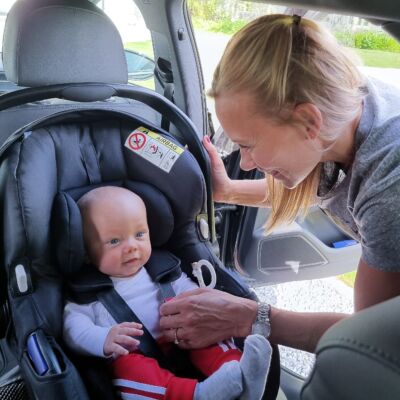 From a worried parent to comfortable in the car
Colin saw the world earlier than expected, which meant he was quite small when he was born. Frida lets us know that as a new parent she was worried about how everything would work out in the car, but thanks to the Axkid Modukid Infant she felt comfortable about her choice. Despite how small Colin was at birth, the baby inserts made it possible for Colin to travel safely and comfortably since his first ride. If we were able to ask Colin what he feels about his infant car seat, we think he would have been happy as well since Frida tells us that he always falls asleep in the car.
Time to change car seat
Colin is now an" old" child and has changed his infant car seat to what Frida calls the "flashy and cool" Axkid ONE. At first, it truly was a change for Frida to go from an infant car seat to a rear-facing car seat. She misses not being able to carry a sleeping Colin from the car, but of course, everything has its time. Now, both Frida and Colin have experienced the simplicity of Axkid ONE and its functions.
" The most fantastic thing with this car seat is the way the car seat adapts after Colin and his development, and how long he will be able to use the same car seat."
Frida emphasises the importance of rear-facing traveling and what it means to her. Choosing a car seat that allows rear-facing for as long as possible was a matter of course, and Axkid ONE was a natural choice considering her active lifestyle. Frida choses to see the car seat as an investment for the safety of her child, but also from an environmental point of view since you can use the car seat for such a long time.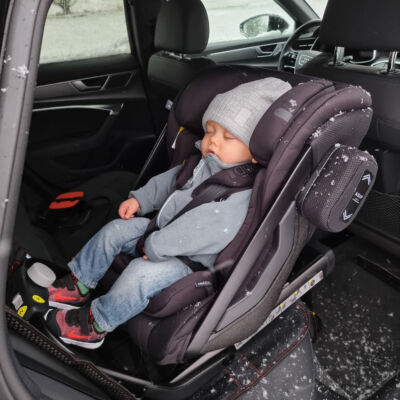 A collaboration of knowledge
The children- and baby industry truly can be a jungle. When asking Frida about advice for new parents, she knows what to answer. Most importantly, always put your child in the first room, but also search for information and ask your loved ones about advice. Moreover, Frida thinks it is important to build a perception of your own and find out what works for you and your family.
There are many sources of information and a lot to take in as a new parent, so it makes us happy when Frida tells us about the knowledge, she has gained due to our collaboration.
" Collaborating with Axkid which is a strong Swedish brand, whose drive is the rear-facing traveling is something I really support. Thanks to Axkid, I have learned a lot about children's safety in the car."
—–
Axkid wants to thank Frida for an incredible collaboration and for helping us to spread the important message about children's safety in the car.
Together we can make a change.