Izaskun Berganzo had just picked up her 4-year-old daughter Paula from preschool. When they least expected it, stopped at a traffic light, they were involved in a heavy chain impact. Paula, who was seated in her Axkid Minikid, came out unharmed. Today, her mother wants to share their story.
How true it is that accidents cannot be avoided, that they surprise us when we least expect it? It´s not worth the "bah, it's a short journey" or "I´m a safe driver, I don't drive fast, especially when I have the children in the car." That doesn't matter. My journey could not have been any shorter, and I could not go more slowly. I had just picked up my daughter from daycare, and we were going home for lunch, a journey that usually takes us 10 minutes. We were at a traffic light with one car in front and one behind of us. When my 4-year-old daughter was telling me what she had done in preschool, we experienced a heavy rear impact and immediately afterward we suffered another impact, from the car we had in front of us.
I didn't know what had happened, but my immediate concern was to know how my daughter was doing. So, I opened the door and tried to get her out, but my head was spinning, I was too dizzy to get out of the car. I had to sit down and, very nervous and almost crying I asked my daughter how she felt. Calm, as if nothing had happened, with her little voice she answered: "Mom, I'm fine." However, my concern didn't end there. I knew Paula was fine and she was not even scared but I was 34 weeks pregnant and what I didn't know if my baby was okay.
After the collision, everything happened very quickly. Many people around me noticed I was pregnant and gathered around the car. Suddenly my car was filled with police officers who very kindly approached Paula and prevented me from getting out of the car until the ambulance arrived and assessed our situation.
When the paramedics arrived, two of them went to take care of me and another one got assurance of Paula well-being. They asked her how she felt, and she replied: "I'm fine, but my mom is a bit dizzy." I was felt awful, but just hearing her voice, a smile was drawn on my face. I had a mixture of feelings. On the other hand, I was concerned about Mario (my unborn baby) and on the other, I was relieved by knowing that our decision to let Paula travel rear-facing had prevented a major injury. She didn't feel bad at all; she wasn't even feeling scared. When they asked her what had happened, she answered: "that white car has crashed against us." That first white car had suffered the first impact, but my little girl didn't understand that.
When the doctor who had seen Paula and the police told me that the decision to let her travel rear-facing had prevented her from suffering severe injuries, you cannot imagine what I felt! After my pregnancy check-up they also confirmed everything was fine with my baby and I felt very grateful.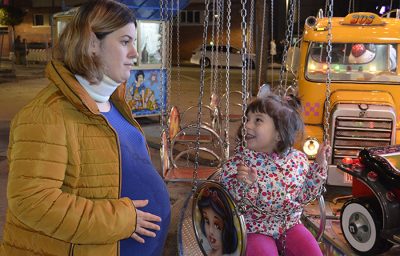 When I got pregnant, I looked for a lot of information about babies and one of the topics I read about was child safety. I didn't know anything about rear-facing nor knew anyone around me whose children travelled that way. However, although it was not clear to me why I did know that Paula was going to go rear-facing until she was four years old because it was much safer for her. Later I discovered that age was not so decisive, that it depends on height and weight and that there were child restraint systems that would allow her to travel rear-facing beyond four years.
At first, we used the baby car seat that came with the stroller we bought for her. Then we changed to a car seat and, as my daughter grew up and I learned more about rear-facing car seats, I discovered Axkid car seats. So, with 18 months, we bought an Axkid Minikid car seat for the second car.
The most important thing for us, my husband and me, was that Paula traveled rear-facing as long as there was a car seat that allow her to. I can't be more satisfied with our decision. I know that, despite cases like mine and the number of studies there are, there are still people who think it's just trendy or a strategy of the manufacturers to sell more expensive car seats or, even worse, that we have always travelled forward-facing and nothing has ever happened. Unfortunately, many others cannot tell the same story. Of course, there were also accidents in the past, but they did not spread as they do now, and they did not have the social significance they have today thanks to social media.
Also, thanks to the internet, every day there is more and more information about the importance of rear-facing travel. On my side, I have always tried to contribute to doing my best. For three years now, I've been part of the awareness campaigns with my friend, the Spanish blogger and physiotherapist Marta Erill, better known as "Una mamá de otro planeta" ("A mom from another planet"), whose strength and commitment has always inspired me.  Moreover, I can assure you something: with this experience, my motivation to continue raising awareness about rear-facing is even greater.
Rear-facing is the best way to protect our children when travelling in cars. I have known this for some time, but now, more than ever, I can assure you that both of my children Paula and Mario will travel safe, rear-facing for as long as they can, and I know that with their Axkid Minikid they will be able to do it for a long, long time.
Story by Izaskun Berganzo, from Spain.
Read more: