Sweden is world-leading when it comes to child safety in vehicles. Noted reasons for this are Vision Zero (a policy that aims for no fatalities nor serious injuries involving road traffic in Sweden), the safest roads in the EU, and the fact that children sit in rear-facing car seats. Axkid spoke with Lilian Korsár, Administrator and PR Officer at the West Federation of the National Society for Road Safety. The National Society for Road Safety (NTF) is a Swedish non-profit organization working towards safer roads in Sweden.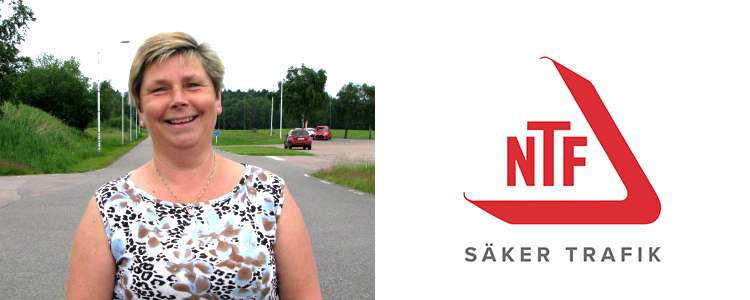 According to you and NTF, why is that Sweden has the safest roads in the world?
"Statistics show that 253 people died on Swedish roads in 2017. Children sitting in rear-facing car seats makes an incredible difference to child safety in traffic – that cannot be stated enough! Here in Sweden we also have tests and ratings that maintain a high standard. E-approval (ECE R44) means that the child car seat is approved across Europe. i-Size (Un R129) is a modernized regulation with stricter requirements for, among other things, side-impact protection. For this, work began with car seats conforming to the ISOFIX standard, since they were not included in the E-approval. i-Size classifications are according to height instead of weight. The third rating, Plus Test, is a complementary and voluntary test. It's a more rigorous test to ensure that the child is not subjected to neck injuries in the event of a head-on collision. At present, only rear-facing car seats can pass the Plus Test."
The rear-facing car seat is a Swedish invention, is Sweden still central in driving development forward?
"I don't have any figures for that, but I would assume so. We have advocated rearward facing travel for a long time, and many countries lag far behind us. Even though the law does not explicitly state that children must sit in rear-facing car seats, it is natural for us to do this in Sweden these days. It is the law, however, that you must have approved equipment suitable for your child up until they reach 135 centimeters in height. And I know that many other countries are very interested in Sweden's Vision Zero policy, among other things."
Are statistics produced and compared among countries?
"In Sweden, we have Strada, which is an information system where data from all accidents occurring in the country are reported by the police and all A&Es. The type of accident, the cause of the accident, and so on. We keep fairly good track of our statistics: The figures relating to the 253 fatalities in 2017 come from Strada. I'm not sure if other countries gather information similarly, so it's a bit difficult comparing them to Sweden."
What does your role at NTF West involve?
"My area is road safety for children in vehicles. We have an open showroom every Thursday, and parents are welcome to come by and have a look at all types of child car seats. The best thing about this is that parents can try out the car seats to check which one suits their car or child, and can receive impartial advice. I also hold talks for parent groups at pediatric clinics and similar about road safety for children."
When you meet parents or expecting parents, what are the most frequently asked questions?
"How one installs a child car seat, what one should consider – most questions are usually about the fundamentals. But we are often met with surprise regarding our recommendation to upgrade from an infant carrier to a rear-facing car seat after approximately six months. Most people think that the infant carrier must be used until the child outgrows it, which is not the case. I also note that many people believe that the backseat is the safest place for a car seat, but it doesn't make a difference. But if the car seat is placed on the front passenger seat, the airbag must be deactivated – that is very important."
Do have good partnerships in your work?
"Yes, Axkid, for instance, generously provides us with child car seats for our showroom, which parents can try out. We are a non-profit organization, and are, of course, immensely appreciative of this partnership.
All three NTF federations in Västra Götaland work with the Västra Götaland Regional Council, which is fantastic. It enables our work to be financially sustainable, straightforward and safe and allows us to work preventively without too much financial concern. Thanks to subsidies, it costs about SEK 400 to rent an infant carrier from us for nine months, which is an excellent price. Partnerships of this sort are invaluable, and it would, of course, be fantastic if the rest of the country did the same!"
Read more here: